....A MEMORIAL TO MY UNCLE A ROYAL FIELD ARTILLERY MAN....
1915-1918.
And galleries of other Stintons who gave their lives.
Welcome to my website dedicated to the memory of my uncle - Bombardier John Ashley Stinton -. John died in 1918 after being wounded in action in world war one. He was the son of Ashley and Agnes Stinton and brother to my father Claude. I have been researching John for over 10 years now, His records were destroyed in the bombing of Kew in WW2 making research difficult.
This website was started in Aug 2005. Please click on titles at top of the webpage to navigate the site. Thank you

A moment to reflect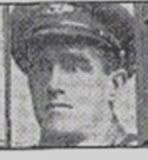 John (Jack) Ashley Stinton.



&quotThey shall grow not old
as we that are left grow old:
age shall not weary them,
nor the years condemn.
At the going down of the sun
and in the morning we will
remember them.&quot
Laurence Binyon
(1869-1943).
(served on the front with the red cross 1916).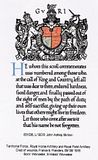 Memorial Scroll
*****
John was aged 30 at the time of his death.
Prior to the war John worked on the railways around the Worcester area,
working in the Locomotive and Carriage Dept as a labourer.
His wage rate was three shillings and four pence in December 1914, his works number was 81286.
John was one of 2,524 rail workers who gave their lives in WW1.

He also tried his hand at mining around 1911 with his friend Frank Palmer,
both Labouring below ground at McClaren colliery Abertsswg.
He was a boarder at John and Emily Lappings house in Glyn Street Abertsswg Wales.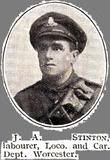 John's picture as it appeared in the Great Western Railway Magazine.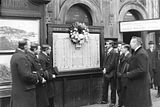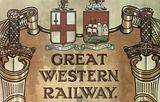 Opening of the GWR memorial at
Paddington station Nov 11th 1919.John is on this memorial as J.A.Y Stinton
*****

Thank you for visiting my site
please click on titles at top of
page.
My Guestbook
you are welcome to leave a comment.






LATEST UPDATE:- 12th Nov 2011.
Picture of grandaughter laying memorial.
Website visits for November 2009 were 1,677 a record.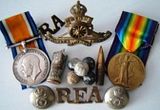 I also have another website
to the memory of the fallen
of Bidford-on-Avon parish Warwickshire..
Please click here




Disclaimer

This site contains links to third party websites.

I accept no responsibility for any hypertext link's that exists and a listing should not be taken as an endorsement of any kind